We've all seen the cute doggy coats online, those themed pieces made to look fun. Whatever you think of them, making your own is more rewarding, and can guarantee a comfortable fit for your pooch. This is why we have created a list of the best dog coat sewing patterns available. With everything in one place, it removes the need to keep searching. There is something for all tastes, from the silly to the practical but most importantly, they all keep a cold dog warm.
Because of the materials used, most dog coats should be washable. You should expect them to go through a fair amount of punishment after all.
The good thing about this design is that it is reversible. You can either using fleece on both sides, or different fabrics to give them a different look and keep things clean for a little longer.
Ther most important thing is warmth, which is what this coat offers, and it is still nice and easy to make thanks to the basic pattern and instructions.
More at: Professor Pincushion
When there is an unexpected turn in the weather and you need a dog coat fast, this is a great pattern. Not only can it be made in under an hour, but a lot of the supplies and materials are common and ready to hand.
The tutorial says this is a super easy beginner project Itis important to make the coat a good fit for it to do its job of keeping that fur nice and warm.
Thankfully, this pattern is easy to follow Use. fleece and faux fur to get the insulation and protection your dog deserves.
More at: Wholefully
Easy is the best way to describe the dog coat swing pattern since making amendments to find the perfect fit is simple, and the sewing is as well.
The printable pdf is convenient, as are the large images to show you how to tackle each step.
With the comfortable lining and outer fabric, this is a dog coat that is designed to last. To make sure your four-legged companion has some protection from the chill on their next walk, try this pattern on for size.
More at: Ricochet and Away
There are so many ways this cute dog coat can be made as there are a variety of fabrics that work; The main thing is that it is insulated and has the right lining which is not difficult to achieve.
The guide makes things easy, taking away all the guesswork of making such a project.
It can be made from leftover canvas although if you want to make a waterproof version to keep your pup dry, use some form of Goretex material to make sure they are comfortable and protected.
More at: Closet Core Patterns
Upcycling old clothes is a great way of saving money and repurposing the old. This dog coat sewing pattern is made from an old jacket.
The benefit here is that a jacket will be made from warm and waterproof material, passing the benefit on to your dog.
It is possible to buy a suitable jacket from a thrift shop if you don't have one you wish to part with and follow the 6 steps, adding an applique for a little personalization should you wish.
More at: Makezine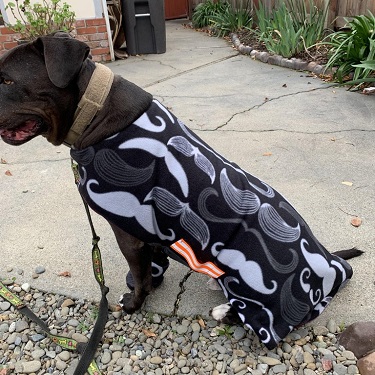 In 5 steps it is possible to make this warm dog coat for your dog and it has a nice length to it, giving your pooch more coverage and protection.
The process is simple and the pattern is free so cutting it and getting started is fast.
There are measurements to make so this is a custom fit that will be ideal for a dog that is in between sizes so often misses out on a comfortable dog coat.
More at: Instructables Craft
Greyhound Coat From Old Fleece
The fleece material used here is going to make it extra cozy and it is ideal for a greyhound.
Because they have that long, thin shape, it can be hard to find a one size fits all coat, which makes this custom pattern even better.
These coats can be expensive, so making a unique version for next to nothing is a no-brainer.
We like that it allows you to get it done in just five steps.
More at: Instructables Craft
There is a luxe feel about this lovely dog coat sewing pattern.
Because it has that faux fur neckline, it looks the part, but is also well insulated, protecting the body from the chill.
The instructions are easy to follow and the pattern is free.
Making adjustments is easy so expect to be able to head out in adverse conditions and make the most of the coat with a warm companion.
More at: Love Sewing Mag
This is ideal for heading out in the snow since it gives more coverage than your average dog coat.
Because most tend to concentrate on the back, this one doesn't forget the belly to ensure they are kept dry when kicking up snow or splashing in puddles.
Use fleece on the inside and waterproof fabric on the outer to ensure maximum protection. Don't forget those dog booties if heading out in the snow.
More at: Bernina Blog
As with many of the tutorials, it all starts with making measurements. This means it doesn't matter if you have a Huskie or a dachshund, this is going to be the perfect dog coat.
The instructions are lengthy, but this leaves less room for error. For the most part, it is easy to follow and makes perfect sense for a beginner sewer.
There isn't a lot of skill involved, just patience as you craft the winter warming coat your dog deserves.
More at: Urban Threads
A felted sweater is ideal for this dog coat sewing pattern. Not only is it great to have materials to hand, but they are well insulated for a pooch.
The entire process is simple once you identify the garment you wish to cut up and sew. There are only a handful of steps and they all have large images detailing what to expect from each one.
An easy project but an important one when the chill is in the air and your dog wants to go for a walk.
More at: Babbles by Brook
The style of this one is just as functional as it is fun so to dress your dog to impress, this can be a good option.
In a way, it looks like an oversized bib made from denim, but this forms the shape of a comfortable dog coat that is not easy to shake off when out and about.
The good thing is you can use old jeans to form the pattern and repurpose a hard-wearing garment into something your dog can benefit from when the weather isn't so inviting.
More at: Sew Doggy Style
These two words go hand in hand on this list, as all we want is a cozy dog. This pattern is easy to make and uses old clothes such as knit from a hat for a small dog, or an old sweater for larger breeds.
There isn't a tonne of sewing and is cut to measure with help along the way. There are only 6 steps to master and this is a pretty forgiving dog coat sewing pattern so ideal for a novice.
Again, it is all about making our four-legged friends something to keep the chill away.
More at: Pretty Little Things